September 29th, 2021
Kevin had to get up and go to work at 5am, so I was on my own with about 45 minutes of sleep. Atticus still was not getting up or walking without heavy assistance.
I was reaching the level of sleep deprivation where I was about to start sobbing. I couldn't leave Atticus unsupervised, and the cone of shame was not happening. I couldn't leave him alone to go buy a soft cone. Luckily, I was able to call my mom and she came over to sit with him for a few hours. I called in sick to work and slept maybe an hour. My mom helped me take him out to pee. He still was not walking without me mostly carrying his weight. He did have a few moments where he could stand unassisted on 3 legs, but not walk.
On this day I could see swelling at his incision, so I tried to ice it. Atticus was NOT having it, so I stopped trying. We kept up with his meds (gabapentin and carprofen every 12 hours, codeine every 8). I could tell he was getting uncomfortable when each med started to wear off. To get his to get up and potty we had to pull him up by his harness, which made him yelp and cry. Daggers to my heart every time. We all hated potty time.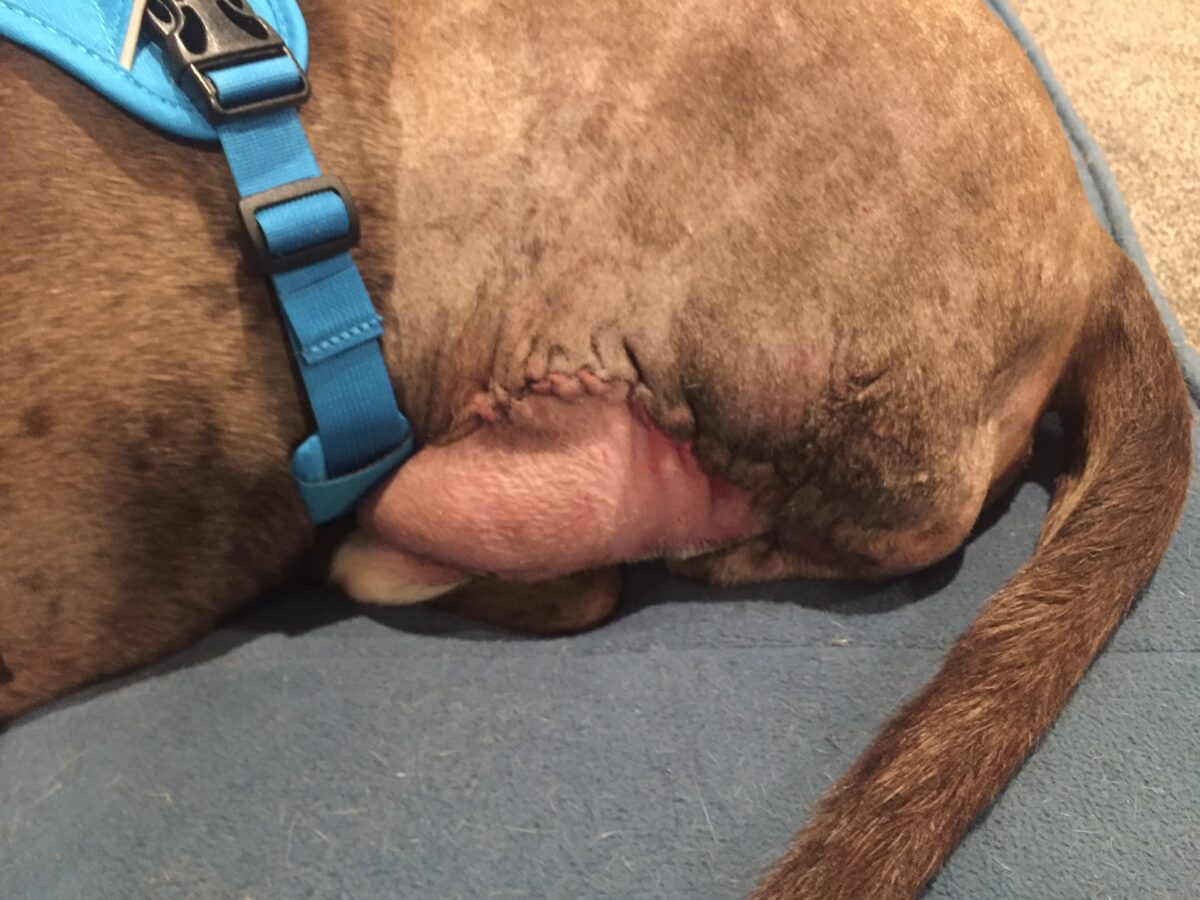 When the clinic called to check in, I asked if some dogs never get back up and walk again after surgery. They told me no, not for hind-limb amputees, and that some dogs just take time. It was understandable he was taking more time than most, considering how much muscle tissue he had lost.
That afternoon I had an important meeting that I couldn't reschedule. I was a confused zombie for most of it. Later that night I had to go and teach the worst kickboxing class ever. I really should have found a sub. I also really should have taken the entire week off work. This was a really miserable time for both of us. We knew surgery would be tough, but we weren't ready for Atticus to be struggling as much as he was, unable to walk independently. The sleep deprivation was not helping.
That night was much of the same- he cried for a long time, and moved around, clearly unsettled. I took the early shift, and switched with Kevin at 3 am, so we both could sleep a bit. Of course Kevin fell asleep during his shift, and I woke up with Atticus having got up, and walked two steps over to me! I'm still surprised he managed this, and I had to help him back to his bed.